Article: Top 5 Hotels to rest your head by Peter Staunton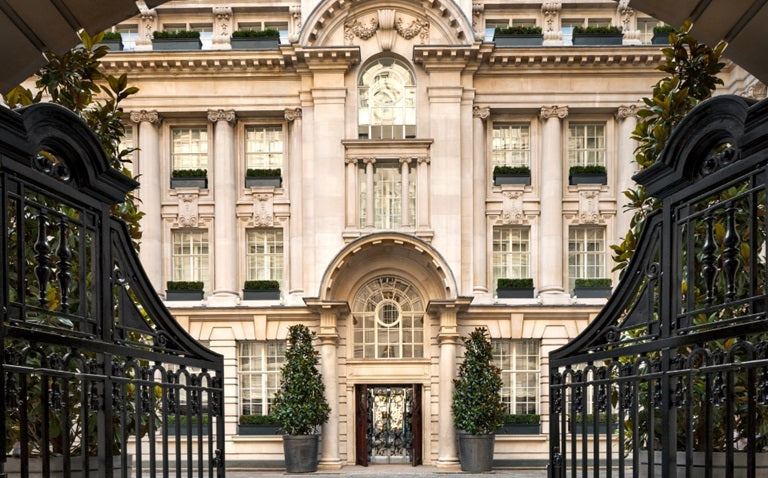 Top 5 Hotels to rest your head by Peter Staunton
At Peter Staunton Design we believe travel is the only thing you can buy that makes you richer, it can also leave you speechless then turn you into a storyteller.
Our most creative times derive from travelling and the Luxurious hotels that we have been lucky to call home.  At Peter Staunton Interior Design we are most certainly a glutton for a beautiful hotel, and without a doubt easily smitten by a high thread count.
Here we share our favourites with you.
If I could choose a place to live for the rest of my life, it would be the Garden House Suite at the Rosewood London.  Who doesn't want to stay in a top floor suite with views of the London Skyline?.   The Rosewood is a grand impressive building, yet still manages to retain a boutique feel, at Peter Staunton Design we are always on the hunt for a boutique hotel to inspire us, this is truly magnificent. Tony Chi and Associates designed all the rooms, creating rich Asian design with a good mix of British old world quirkiness. If you really want to spend the weekend incognito you could always choose the Manor House Suite, the only suite in the world with a separate postcode from the rest of the hotel, a lavish suite accessed via a private lift from its own entrance.
The Andaz – Amsterdam
From time to time at Peter Staunton Interior Design we stumble upon one thing while in pursuit of another, this springs to mind when staying at the Andaz hotel, this hotel is surrounded by a city known for its innovation and creativity.
Designed by Marcel Wanders who has been dubbed by the New York Times as the 'Lady Gaga of Design'.  Marcel has created a hotel with both edginess and the homely feel of a cosy Amsterdam canal house. The entrance hall starts with miniature doors and amazing chequerboard tables which we are intending to showcase in the window of our Design Studio.
The three giant porcelain looking bells that hang over the check-in desks and the tulip chairs really do add to the Alice in Wonderland feel to this hotel. Marcel has certainly made design his mission at the Andaz Hotel.
At the start of every April Peter Staunton Interior Design travels to Milan to visit Salone Del Mobile, the city becomes a hub of design with over 300,00 visitors from over 165 different countries, trying to find a hotel at this time of year is no small feat, however if we book in advance we can just about squeeze a room at the ME Hotel, voted one of the best hotels in Milan by the Telegraph.
The rooms have names like the Vibe room, Chic suite, Personality Suite, each suite has a minibar nicknamed  "Maxi Bars" all containing Agent Provocateur lingerie and hangover kits stocked with mineral salts and refreshing face masks, useful if you have been hanging out with the beautiful people on the 10th floor Radio rooftop bar where you are likely to see Milan's super stylish preen and pose on the rooftop terrace, great place for people watching. My favourite room in the hotel has to be the STK steakhouse, the restaurant has its own in-house DJ creating a laid back vibe while you relax and enjoy the international cuisine.
If you asked me, which is your favourite city, I would always say Barcelona. I think that has something to do with the Ohla Hotel and the Junior Suite I was lucky enough to stay in. The rooms feel spacious, and the view from the extra large windows are a sight to see, not forgetting the Bulgari bathroom accessories.
The Ohla is a five-star hotel right in the centre of Barcelona. The hotel itself blends in brilliantly with the Catalan Gothic architecture that surrounds it, interestingly this hotel was once a department store located on the site of an old Palace.
The hotel feels understated with plenty of luxuries, including a Michelin star restaurant. My favourite place in the hotel would be the rooftop bar where you can kick back in your own private canopy next to the rooftop pool, do not forget to order a drink from the cocktail bar it does have its own award winning mixologists.
Once a year Peter Staunton Design travels to Paris for Maison & Objet, thousands of people flock here for the event to get familiar with the hottest design in interiors for the year ahead. Maison & Objet is often cited as one of the most important events in the interiors calendar. After walking around the show from early morning to early evening you just want to stay somewhere that feels like home from home. Citizen M is like walking into a comfy, cool open plan living space, there is no reception desk, you check yourself in, your Key is in your hand two minutes later you are sitting at the bar sipping on gorgeous cocktails. This is the place you sometimes need when you just want to keep life simple but fun. The living area is filled with books and items from around the world, it really is like being in someone's home.
At Peter Staunton Design we love to be inspired by the many places we have visited and love to return home to create from a place that has inspired us. Travel isn't always a reward for working it's also an education for living, it can certainly make you modest as you realise what a tiny place in the world you really occupy.
As Lewis Carroll once said the best gift you could have given her was a lifetime of adventure……we hope you have many adventures so when you return home we can help create your inspirations from all the incredible places you have visited.