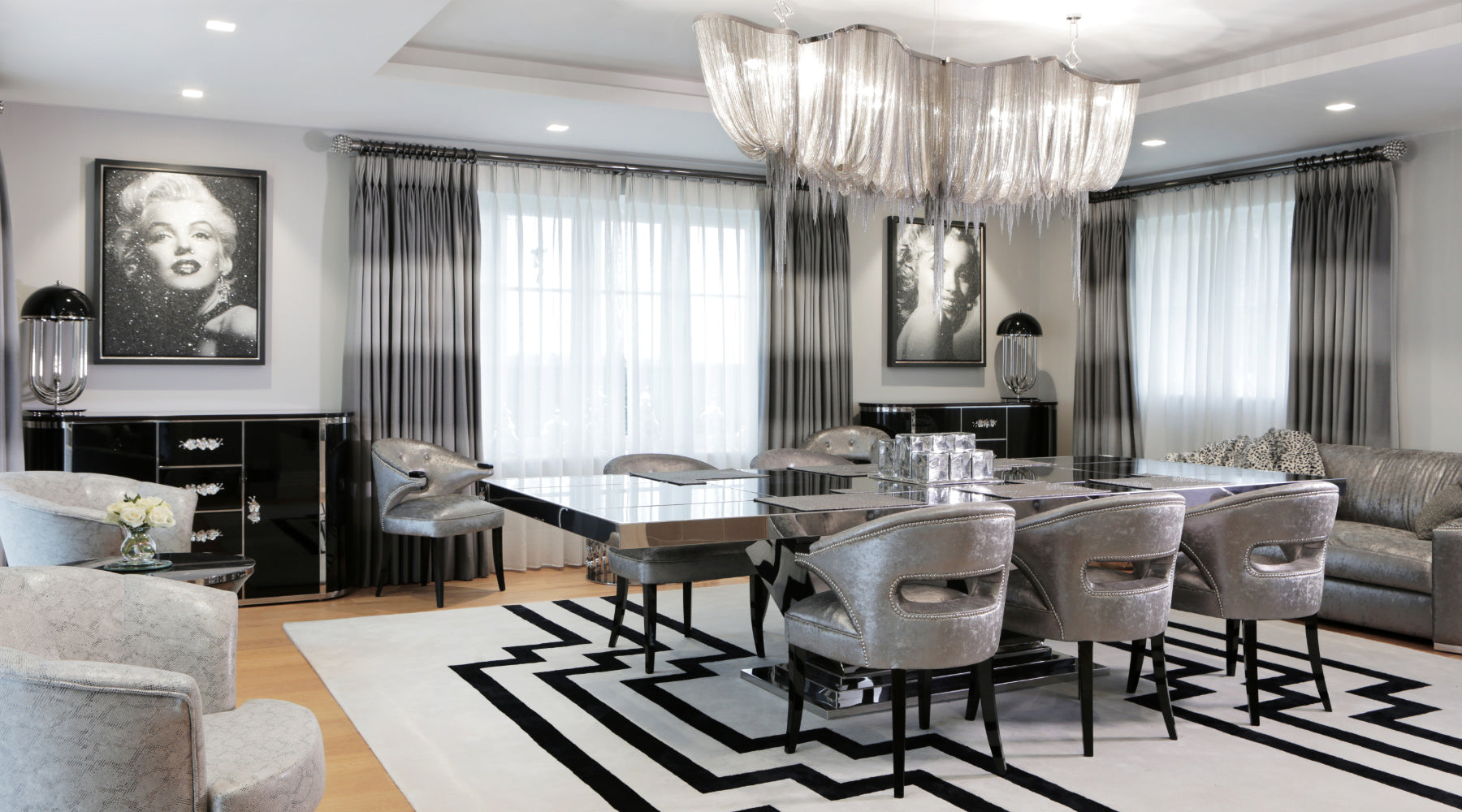 Harbury Country House - Our art-deco rock n' roll chic dining room has been shortlisted!
We are proud to announce that our cool, rock n rolling Harbury Country House project has been shortlisted for the International Design & Architecture Awards 2016! Hosted by design et al Magazine.
Briefly, the challenge was to deliver a design that would reference various classic style periods such as Art Deco, give it a contemporary update & twist, but whilst also allowing for everyday family life.
The client (like myself) loves various styles & periods of design, and the test was to introduce & work with as many as possible, without them fighting against each other. To give a brief of this, one of the rooms was geographically themed (Japanese / Asian), another was music based (John Lennon), and another was Hollywood (the client's Marilyn Monroe artwork) & Art Deco. The link between them all was luxury rock n roll chic.
It required looking at how they live as they have many rooms to choose from, whether it be entertaining, watching a movie together, family time on Sundays watching sport, or family meals.
Each room was designed to have multi functions, whether it be a family room mixed with a cinema capability. The dining room had to be able to cater for entertaining for a full evening, which included a bar, armchairs, as well as seating 8 for dinner. The music room also doubles as the family summer room, as well as entertaining space.
Although the client has enough rooms for every space to have one main purpose, the client wanted them to have as much multi-functioning aspects as possible, without cluttering or ruining the space & feel.
The client wanted a design that wouldn't date. A classic yet contemporary finish that would transcend time, which is why we looked to specific classic periods of design such as art deco to help ensure the house would stand the test of time, and the continuing changes within the design world.
If you liked it, please vote for us in the link below and support the rock n roll chic style of our designs!
Living Spaces UK - Peter Staunton Interior Design