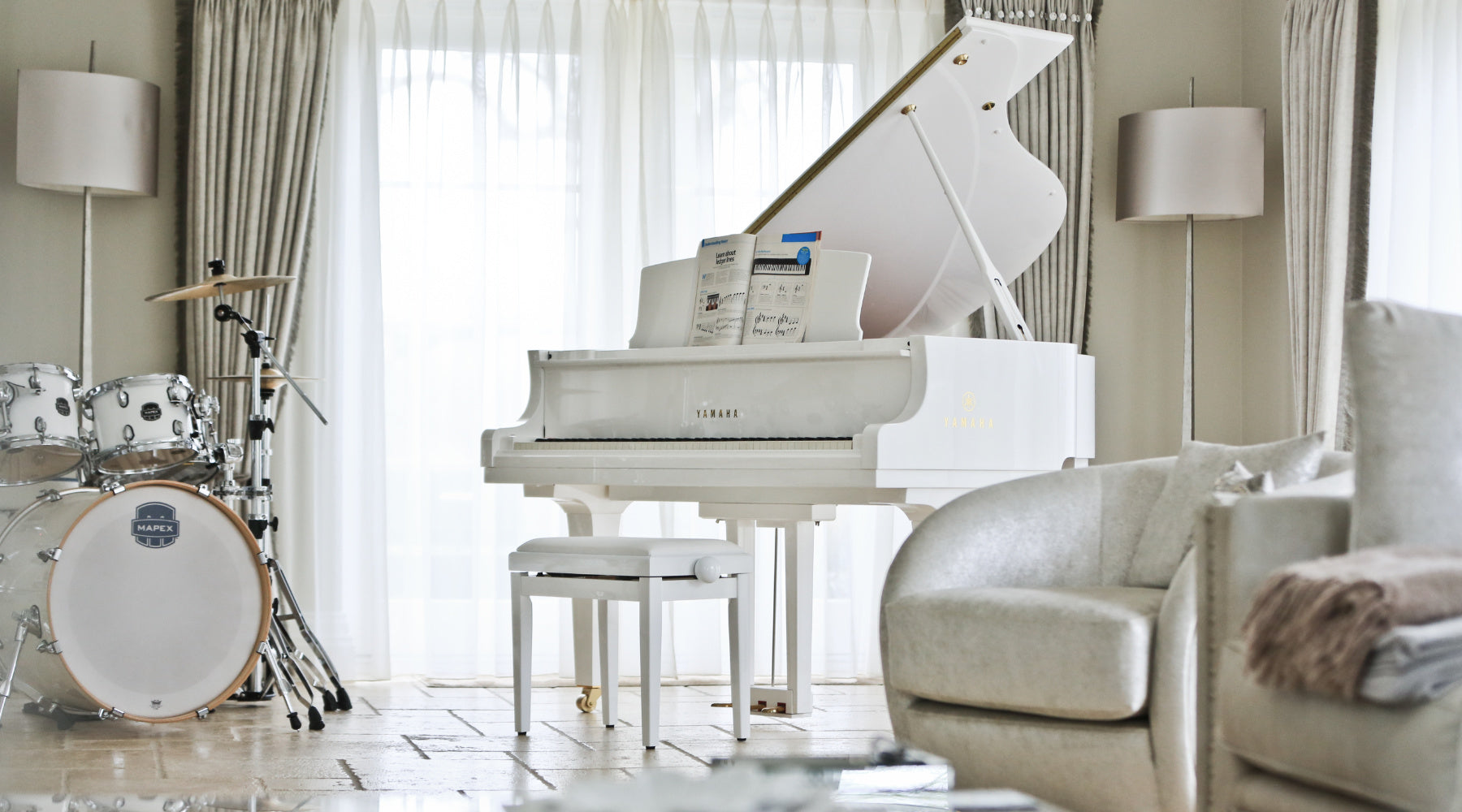 How to decorate a room with a grand piano
If you are passionate about music and you would like to decorate your lounge or music room with a piano, then you need to see what we have found for you in this post. The chicest, luxurious and rock and roll stylish rooms that will show you how a rock star should live!
Lenny Kravit's Music Rooms
And the best way to start is with the stylish music rooms designed by Kravitz Design. Lenny Kravitz it's an icon whether in the music industry or the fashion industry, you will be amazed with the ideas that he applies on his own penthouses and commercial projects.
The image above is from his Penthouse located in Paris, how cool and elegant is that? A transparent piano with a fantastic curved floor lamp and a chic stool with silver base and zebra patterned fabric in black & silver, all located alongside these classy stairs and decorated with awesome art-deco inspired pictures.
Lenny Kravitz also designed his opulent apartment located in New Orleans. Using the same crystal patterned piano, this time Lenny used darker colours for the wallpaper, rugs, centre table and sofa. The mix between the bricked wall and these dark colours, gives the room an amazing look.
High-end Lounge in UK
Nothing better than having an Elton John's Style Gloss White Yamaha piano in your music room. The colours surrounding the space are beautiful and it gives the piano a major presence in this scene. This rock and roll chic room was designed by us at Peter Staunton Interior Design, have a look into the full project here.
Contemporary Villa's Lounge in Tel Aviv
A contemporary and classy lounge. We can see that the colours fit amazingly with all the pieces and that the piano gives a good presence to the room.  It's perfect for a summer reunion with friends to play some music together and relax the night away.
Peter Jovanovich's Music Room
The Peter Jovanovich's Music Room is chic, radical and elegant, certainly something that we don't see too often. A grand piano charred and signed Maarten Bass in the middle of the room, a large fireplace, two quirky styled armchairs, and a massive cool wall light with an industrial rusty metal finish makes this room looks fantastic.
Classic Lounge Room in California
If you are looking for a more traditional approach, without taking away the chicness and the art, this room is perfect for you. A Californian Country House with art-deco on its wall, two armchairs complementing the grand piano settled in the middle and a classic chandelier hanging from the decagonal room.