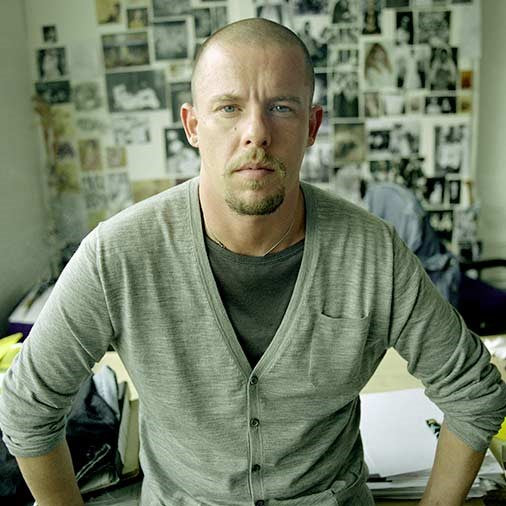 Top 5 Fashion Designers picked by Peter Staunton
There has always been a strong, unbreakable bond, between Interior Design and Fashion. A fashion designer designs clothes the way we at Peter Staunton Interior Design, designs furniture. Why can't the eye naturally run from the catwalk to the home?. Just like your home is an expression of who you are, clothing is also a form of self-expression that gives hints about who you are inside.
Fashion at times is our weapon!.  Think Wallis Simpson, certainly not the most beautiful woman in the world but she made up for it by being the best dressed, she used fashion well. Can you forget the picture of Princess Diana in Bazaar magazine, wearing one of the first dresses Gianni Versace designed for her, was this a significant sign of her growing independence?.  Can fashion get you where you need to be?
Today at Peter Staunton Interior Design we want to write about our top five fashion designers.
Can you believe that two decades have passed since Versace's murder, seems clear to me that Versace was always way ahead of the times. I'm not sure if super models even existed before Versace.  One picture certainly springs to my mind, Linda, Cindy, Naomi and Christy walking the Versace catwalk.
Versace created a fashion dynasty imprinted with a Versace vision, well known for glamorous and flamboyant designs Gianni, without a doubt, changed the fashion world.
Growing up Gianni spent most of his childhood in his mother's studio drawing many of his inspirations from her. Gianni started designing his own clothes at the age of 22. The local garment maker hired him to design a collection that was then sold in his mother's store, soon the Versace name was heard in Milan, the centre of Italian fashion.
Versace completely changed the way a woman looks, he challenged snobbery in design, his designs did not play to the rules. When Courtney love attended the Oscars in a beautiful white Versace gown, she went from dirty grunge to red carpet glamour.
Would we have heard of Liz Hurley if she hadn't of worn the safety pin press?.  I think not, Liz Hurley made an impact because of that dress.
Versace designs are glamour, glitz, and raw sexuality, he rewrote the rules of how we talk about fashion and cranked up the volume. They say Versace dresses the mistress, Armani dresses the wife. We all have our place in this world
Forty is a time when some men may have packed away their youthful ambitions, Armani's career had just started. Famously dressing Richard Gere for the part in American gigolo this set him on his way to world domination in the fashion world.
Armani loves things that age well, things that don't date, that stand the test of time and become living examples of the absolute best. This is again linked with interiors as at Peter Staunton Design we couldn't agree more.
Armani introduces you to the idea of simplicity and elegance, he seeks to have people refine their style through clothing without becoming victims of fashion. There is nothing worse than seeing someone dressed head to toe in designer clothes with no hint of style or sophistication. Would you not think simplicity is the keynote of all true elegance?
On Friday 3rd July, I was lucky enough to marry my wonderful husband.  I also got to walk down the Aisle in a full-length Black Armani gown, every girl's dream, it was mine anyway. Armani aims to make a woman feel confident and happy, and that day it did just that.
They say Design creates culture, culture shapes values, and values determine the future, is this what Chanel did for the world?. I think so. Chanel most certainly was the one who used fashion as a weapon, wasn't she the one who said, "dress like you are going to meet your worst enemy today". Gabrielle Bonheur "Coco" Chanel is an icon for all of us women, with her trademark suits and little black dresses, Coco Chanel created a timeless design.
Chanel's combination of tradition, originality and style has always made it the most seductive of brands.
Chanel is the story of a woman, a house, a style, a look which has now been updated by Karl Lagerfeld who has been in the house since 1983.
A land of secrets, dreams and fantasies, the Chanel legacy has been preserved well. Couture became a part of her life and her ultimate destiny. Chanel once said, "Luck is a way of being, Luck is not a little person, Luck is my soul, I couldn't agree more
Breakfast at Tiffany's, the perfect image of Holly Golightly standing on Fifth Avenue, coffee in one hand, croissant in the other, gazing into Tiffany's. Who hasn't watched this film a million times or is it just me obsessed with Audrey Hepburn's character in the film. A fly by the seat of your pants kinda girl, with a closet full of Givenchy asking "How do I look". Hubert de Givenchy was in charge of all the fashion moments in this film. Audrey Hepburn once said, "These are the only clothes in which I am myself, he is far more than a couturier, he is a creator of Personality".
At the age of 17, Givenchy began an apprenticeship with designer Jacques Fath. After his time with Fath, Givenchy worked for famous French Couture houses like Lucien Lelong, Robert Piguet and Elsa Schiaparelli. In 1952 Givenchy opened his own design house. His debut collection was a hit. Loved by some of the most iconic stars from Grace Kelly, Elizabeth Taylor, Jackie Kennedy and Wallis Simpson, Givenchy became synonymous with Parisian chic.
After selling his business to Louis Vuitton Moet Hennessey in 1988, Givenchy designed for seven more years, retiring and presenting his final collection in 1995.
Givenchy has been succeeded by some of Britons best young creators such as John Galliano, Alexander Mcqueen and Julien Macdonald.
Alexander Mcqueen was a true genius who inspired people, he said, if you don't believe in it, then you shouldn't do it because you can't stand behind it. This is a philosophy that at Peter Staunton Design we believe in. We stand proudly behind all of our wonderful designs.
Sat on the steps of Saint Martins College, Isabella Blow watched Alexander Mcqueen's graduate show. Isabella ended up buying the whole collection for £300.00, which Alexander dropped off to her in a bin liner. Isabella plucked him from obscurity and helped him become a star.
Alexander was named British Designer of the year in 1996, 1997, 2001 and 2003. Known as the quintessential bad boy made good, he pushed the boundaries of fashion, rising from London's east end to become one of Britain's best known and most unique designers.
We hope you have enjoyed our blog today. At Peter Staunton Interior Design like the fashion world,  we will always have the courage to mix things up and push your home to its limit.
Remember Logic will always get you from A to B, but Imagination will take you everywhere…