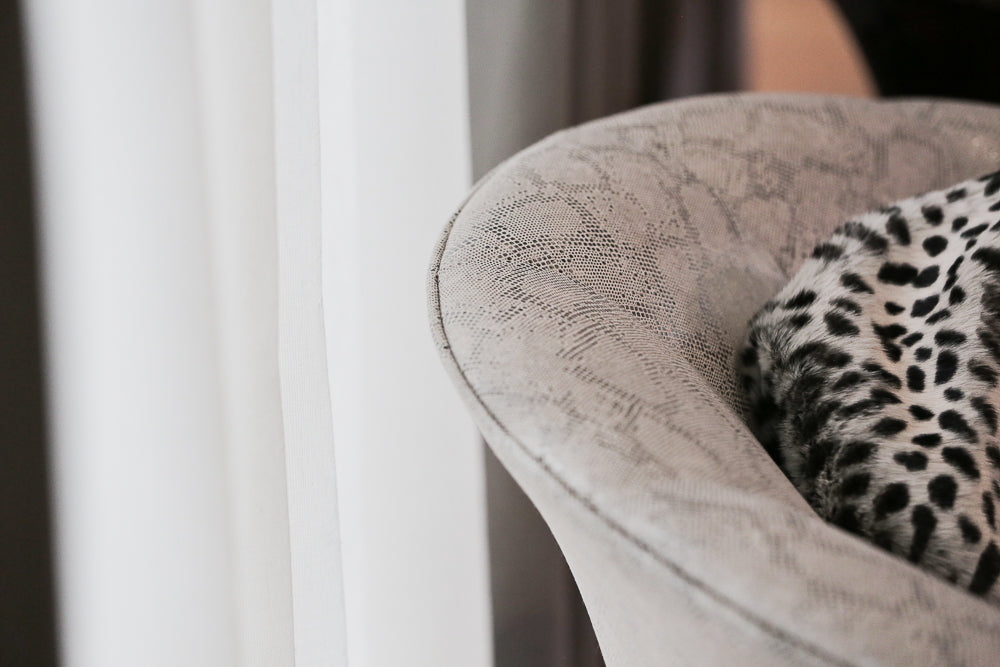 10 Fabrics with rock n' roll chic edge
At Peter Staunton Interior Design, we take inspirations on rock n roll, luxury, art and fashion in order to fuse them on a lifestyle called "rock n roll chic" and in this post we would like to show you some of our most recommended fabrics so we can give you an idea of how to achieve that look and bring that rock n rolling chic edge into your room.
Romo Black Edition Polka Imperial Purple
Lovely velvet spot design on a metallic jacquard ground that looks amazing primarily on cushions. Add some cool piping on the borders and you will get a nice and elegant cushion for your sofa or bed.
Composition: 61% PL 39% VI
Sahco Pixus
A digitally printed ombre' velvet in a generous pixel design with abstract flowers motif. Sometimes customers like to mix it up and bring a colourful pattern to the room. When that happens, we like to recommend the Sahco Pixus. It has that kind of a 70's edge and fits nicely with a Mah Jong Sofa from Roche Bobois. Fresh, stylish and easy to match.
Composition: 100% CV
Zinc Nightclub Xenon Linen
A metallic foil atop a digitally printed velvet ground, conveys the drama and scale of a modernist artist canvas. The texture is awesome and its softness is perfect to use it in upholstery. We really like the gold one but the blue is also kick ass.
Composition: 100% PL
Armani Fabric Jasaan TD062
This is a delicate fabric with vibrant colours and interesting patterns. The silver looks awesome and with the right setup can look amazing in your curtains or pelmets.
Composition: 40%AC 36%CO 24%SE
De Le Cuona Treasure
We really like the luminosity emanated by this fabric, perfect for curtains and cushions! A combination of foils which have been adhered to the surface of a linen mix fabric and washed in a machine to give that vintage metallic appearance. Certainly a cool fabric!
Composition: 40% CO 40& Li 20% Vi
 Zinc Machado Charolite
One of our favourites for its texture and colours. With a purple piping on the borders it is a killer for awesome, luxurious and rocker cushions. The velvet feels soft and the colours are easy to match.
Playful long piled velvet with a deep colour palette, enjoys a fringe like appearance and fabulously soft texture.
Composition: 45% VI 28% PC 19% CO 3% PL
Pile: 60% VI 40% PC
Romo Black Limbali Liquorice
Lovely stripes and colour, this fabric fits amazingly in a bench stool or dressing chair. It also looks cool applied to a cushion.
Composition: 55% VI 35% CO 10% PL
Pile: 100% Vi
Kravet Derek
This patterned reptile skin fabric feels so great and properly applied to an armchair will make it look stylish, opulent and different. We used this fabric in our Harbury Project.
Composition: 55% Polyester 45% Polyurethane
Rubelli Venier Reseda
This fabric looks amazing when applied to curtains and cushions. We love the chaos inhered on it and metallic texture.
Composition: 40% CO 26% CU 15% VI 13% AC 3% PM 3% ME
Nobilis Hibiscus
When we ask for a tropical approach we need to find a fabric that keeps loyal to our rock n roll principles so in that case we recommend the Hibiscus. It has some really cool designs and colours that allow us to be free when projecting the room.
Composition: 100% Li Broderie 75% VI 25% PE