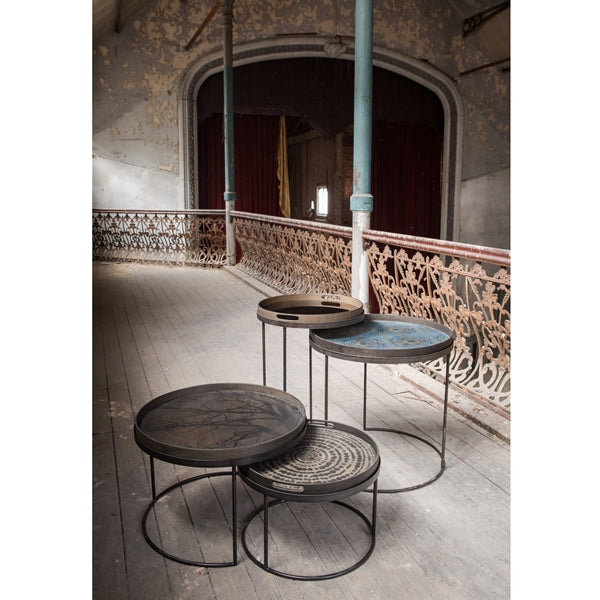 6 side tables we recommend for 2023 with a rock n' roll chic edge
When we specify furniture for a project at Peter Staunton Interior Design we always want to bring that cool, fresh and rock n' roll chic edge to a room.
 In this post we want to show you 6 of the most specified side tables by Peter Staunton in some of his projects and bring you some ideas and inspirations if you are looking to bring a good looking rock n roll style to your room.
So… Brace yourself and get ready for some good rock n roll chic stuff!
Notre Monde Rounded Tray Tables Set

We discovered Notre Monde last January on Maison Objet and can't stop recommending it for some of our projects because of its functionality, simplicity and cool visual that brings an old school rock n roll style to the living room. But, what we love the most is the different alternatives in design we get for the top tray:

Material: Metal Frame
How cool is that? And there is many more!
Decorus Infinity Side Table Oak/Stainless Steel
Peter always liked Decorus and has used some of their pieces in a couple of past projects. Recently he recommended the set of four Infinity Side tables & Coffee table for a huge project in Warwickshire that we are working on, our clients loved it! The design is simple but its space is useful for magazines and books, also with a nice table lamp it can look killer! The stainless steel version is cool if you want to bring opulence to the rocking living room.
Sofa & Chair Co. Relic Side Table
What we like in this cool side table is that it brings an organic touch to the room combined with the metal structure, oh boy, pure rock n roll is what we get in this living room. The material used is petrified wood in black or natural with a sleek base in copper or stainless steel. Each top is unique, so authenticity is there if that is what you like!
Peter Staunton Bespoke Acrylic Side Table
This is a bespoke and simple designed side table, yet, gorgeous with a rock n roll chic edge that the client wanted for this entertainment room. The cool thing about this side table is that you can pick different colours for the acrylic so it can match with the colours you have in your living room.
Florence Knoll Side Table
The Florence Side table is the kind of table that you can use in any living room with any style. With the right sofa and table lamp, this side table can bring rock n roll chic style to your living room. We like the walnut and marble finishes because it gives us the chance to match the palette of colours we are using on the living room. Who said that mid-century can't be cool?
KOKET's Yasmine Side Table
A very classy side table that can help any room feel glamourous and feminine. Its base is made of glass fibre with finishes in gold or silver leaf. Peter Staunton specified this side table for one of his most iconic projects The Harbury Country House with its Art-deco influence and Hollywood style while luxury rock n roll chic, an explosive mix for a unique room!
And that's it! I hope you like these cool side tables and hopefully will give you some awesome ideas that you can use for your home.