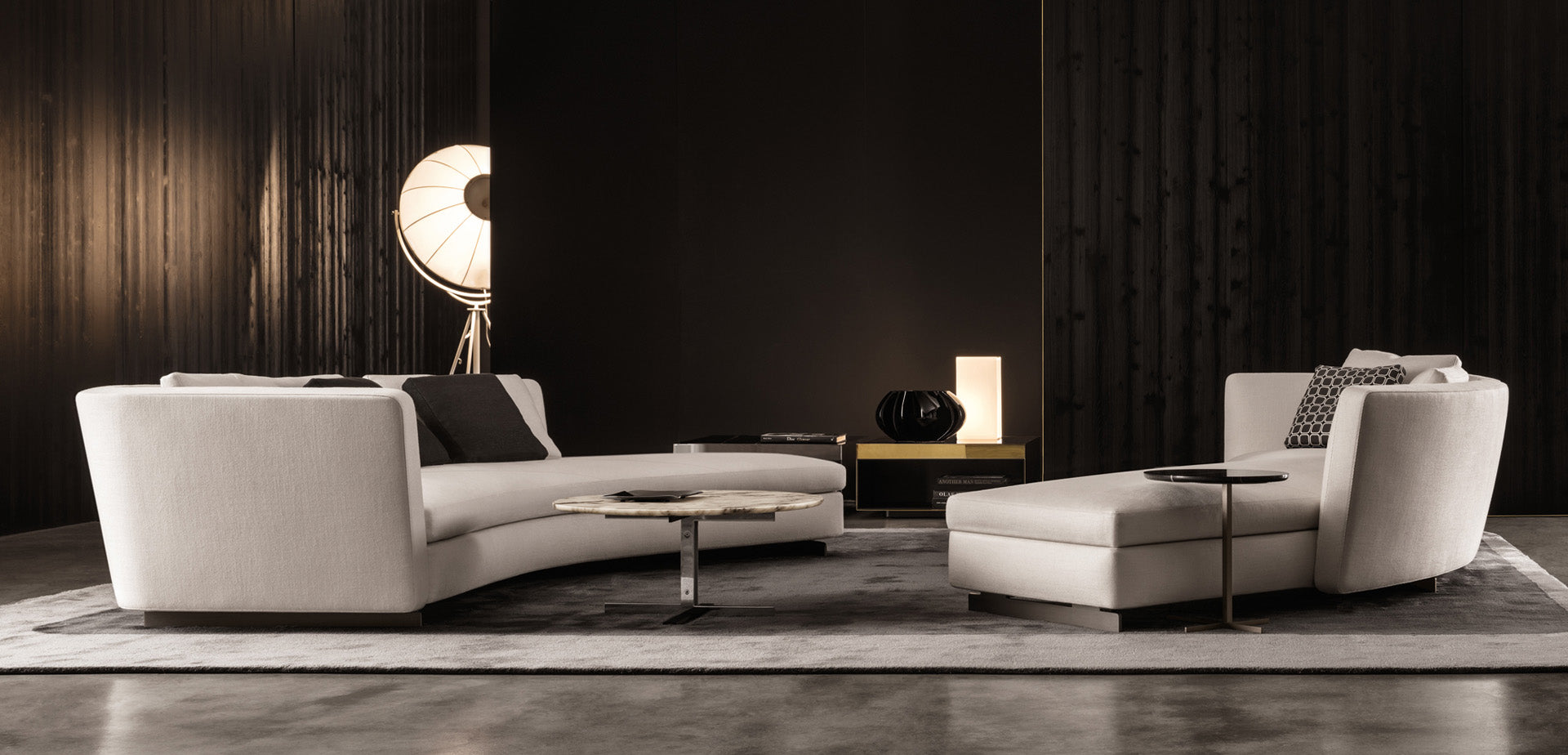 Top 5 sofas for your home
Are you looking for a cool sofa that will fit perfectly with your living room mood? Our team at Peter Staunton Interior Design would like to bring you a selection of 5 sofas we have been using for some of our projects around Leamington Spa & Warwickshire. Have look and get to know why we have chosen them...
A nice and sober Italian sofa that gives you several bespoke options to play around with. You can order it as a 2; 2 1/2; 3 seater sofa or play around and turn it into a corner sofa. Also you can add some wood planks for your home accessories.
Description:
Polished or black painted aluminium alloy feet. Steel frame. Elastic strips suspension. Upholstery in polyurethane/heat-bound polyester fibre. Seat, back and armrest cushions are upholstered with goose feather. Removable fabric or leather cover. The lounge chairs are without armrests and the end-sofas are fitted to include a solid wood shelf, in natural or grey painted oak or in natural painted Canaletto walnut. The Shelf supports are polished or black painted aluminium.
Roche Bobois - Mah Jong Composition Missoni Home
A timeless sofa that you can use wherever you want. These modules are so comfortable and the most amazing thing is that you open your mind to a playground where you can set it the way you want with the fabrics that suits best for your style.
Description:
In the 1970s Hans Hopfer created the Mah Jong lounge sofa, Roche Bobois's most recognised and iconic design. The freedom of form that this fully modular low seating system allows broke the design mould and encouraged a completely new way of organising living spaces. Upholstered in simple plain fabrics at the beginning, today it is 'dressed' by some of the world's finest couturiers.
Sofa & Chair Co. – Sofa Alexander
We have been working with S&C Co. for a long time because of its wide range of products with sober lines, good materials and lead time. One of the sofas we like the most is the Alexander which provides a smart and refined look to any room you might want to use it in, whether is a 2, 2 ½ or 3 seater sofa, the Alexander will turn your living room into a comfortable rock n roll chic ambiance.
Description:
The Alexander range breathes new life into classic comfort with sophistication and style. Exquisite detailing, such as the pulled stitch effect of the backrest, provides a visual treat that is sure to elevate any room. The Alexander is completed with a recessed wooden plinth and indulgent layers' foam-wrapped feather and down padding.
Minotti is a well-known Italian company that supplies top quality sofas you might have seen them in trade shows or showrooms across the world. The piece that we really want to recommend to our clients is the Seymour sofa, specifically the rounded ones with a "yin yang" shape as they are described, it's a sofa that provides style and comfort to any living room.
Description:
Seymour was conceived of the idea to create a seating system that maintains a distinctly formal precision while surrendering to the desire for curved lines in an elegant succession of soft, inviting volumes. The Seymour sofa expresses a soft feminine comfort and sensual elegance, drawing its inspiration from a dynamic, sinuous architectural language. The sofa is comprised of a curved seating element with a one-piece seat cushion matched with foam seat backs in two heights that for three-dimensional curves. The curved elements emphasize Seymour's soft, serpentine lines and its open invitation to mingle and be shared. Seymour rests on elegant, longitudinally positioned, bronze-painted aluminium bars designed to lift and lend lightness to the proportions when seen from the front. Removable seat cushions, seat back and structural covers in fabric or leather.
Sofa & Chair Co. – Sofa Barbican
The Barbican has been one of the first choices from our clients, they really like this sofa in their lounge because of its comforts and because it is an easy sofa to match with any style whether is traditional or modern.
Description
A corner sofa with a difference, the Barbican sofa combines a deep-buttoned seating area with a sophisticated and simple back area designed for pure comfort.