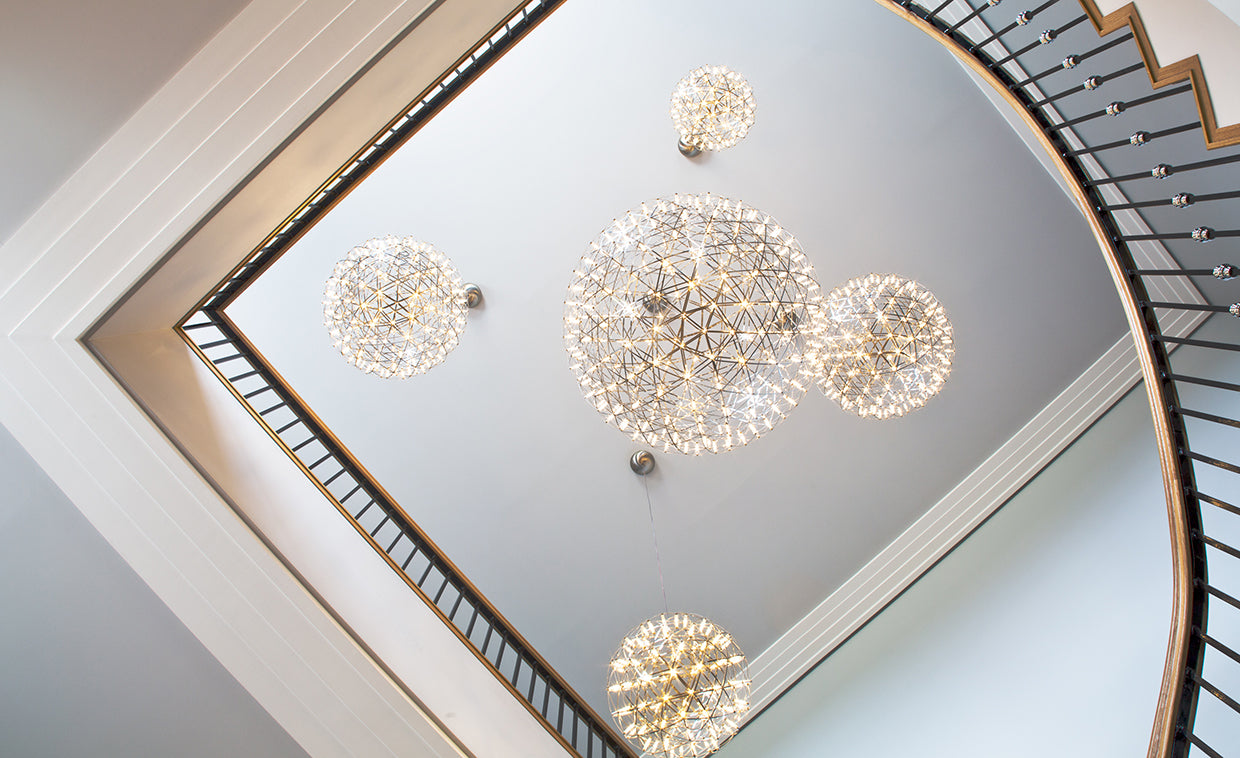 Is it all about the lighting? 5 Luxury Chandeliers for your home
There aren't too many things today that out date electricity, if you go back far enough the sight of a chandelier stood high in many Castles, candles would be lit daily to show the magnificence of a chandelier well made.
The largest collection of British and Baccarat Crystal chandeliers hang in the Dolmabahce Palace in Istanbul, the heaviest weighing 4.5 tons, a present from Queen Victoria.
Luckily for us the Chandelier today isn't just exclusive to royalty….here at Peter Staunton Interior Design we have been lucky enough to work with some amazing collections. Here are some of our favourite chandeliers and Pendants …..
A mathematical genius…designed in 2007 by a Mathematics Professor the Raymond light certainly produces stars even on a cloudy night. The sphere is created from a series of triangular shapes, using delicate bonds of stainless steel, and punctuated with tiny LED lights, to create a soft glow. For us at Peter Staunton Interior Design this has to be the perfect Sphere and one of our favourites, this is why we have used this light to create an atmospheric ambience in a many of our projects.
Made In Venice, this light combines Fortuny's love for combining the Venetian and the oriental. The 3 tier structure is suspended by a delicate net of cords decorated with Murano glass beads. Not only is this light elegant, charming and full of glamour it also gives a flawless appearance to any home, creating an air of romance to any room.
To us, at Peter Staunton Interior Design this light is turning traditional into the modern but still keeping with a timeless classic.  The dimensions of this piece have been expertly worked out by skilled artisans this to us represents the master craft of craftsmanship and what we love to see in the pieces that we use. We had to go with the Gold dust in this design as we wanted the light to take centre stage. Peter Staunton also decided against using the shades to create a sense of drama, you know we like to break the rules from time to time.
Like water in the ocean is how I would describe this mesmerising piece of art. Terzani designs are meticulously handcrafted incorporating modern technology to create lighting. We used this amazing piece of art in our Harbury house project to add a certain mystery to some good old Hollywood glamour.
The John Field Chandelier used by Peter Staunton in our Binton Country House project is absolutely striking. Each plexiglass piece is cut, chiseled and sculpted by hand in Italy to create an elliptical silhouette. The Chandelier is a solid structure, the way the light interacts with the edges of the design is pure brilliance.
Not only is it wonderful to see these amazing collections in the projects we work on, what we also love at Peter Staunton Interior Design is the work that goes into some of these pieces, for us, it isn't just about finding a piece that will work it's about knowing the history behind a product. We truly believe in the craftsmanship and the imagination that is used to create.
Imagination to us at Peter Staunton Interior Design is always the highest kite you can fly,  and we hope you appreciate the amazing pieces that are flying high in some of our projects.